SKU:AP600
Regular price
Sale price
$2,495.00
Unit price
per
Sale
Sold out
The AP600 is our newest original design bench top welding positioner. Use it to make welding round items, such as pipe fittings and exhaust components a breeze. It may also be used in any type of work that would benefit from an electrically powered rotary turn table. The AP600 positioner plugs into a standard 115V AC outlet, has variable speed control from 1/3 - 12 RPM and a 100 pound capacity.
The AP600 features a timer function unique to this model. The timer is very useful for evenly spaced intermittent welds, or when you need to start and stop from a certain point. The timer is set by rotating a selector knob to your desired timed setting. Depress & hold the foot pedal and the positioner will rotate for the chosen time. Release the foot pedal to reset the timer.

The driveline is powered by a heavy duty made in USA die cast gear box with solid steel gears. The drive shaft connection is made with a steel drive chain and held in place by a rigid double ball bearing block. The positioner comes standard with a made in USA foot pedal with on/off control. The motor control is also made in the USA and maintains constant torque through variable speeds. The AP600 adds directional control using a Forward/Reverse toggle switch. 
Its 8" x 3/8" thick steel table comes standard and features concentric grooves every 1/2" to help in centering your work piece. The table comes with eight 1/4" wide slots and eight 1/4" diameter holes spaced 45 degrees apart to securely fasten your work piece. If most of your work is production welding, you will want to upgrade to our 3-jaw chuck; It's auto centering, has reversible jaws, a capacity of 1/8" - 7" and quickly adjusts using removable levers (3-jaw chuck info). If you need to grip square or rectangular shaped parts add our 4-jaw chuck; it has reversible jaws and a capacity of 1/2" - 5-1/4" (4-jaw chuck info). Add a welding chuck to your AP600 at a discounted price above.
The included fixture platform measures 9" x 12" and easily mounts to the side of the welding positioner. The fixture platform has many slots and holes to mount stops and other fixtures that help facilitate your work piece positioning. You may also use it to steady your hands when welding and/or mount the included torch holder. The fixture platform is made of steel and can be drilled & tapped to best suit your needs.
The AP600 comes standard with a durable silver hammertone powder coat finish, stainless steel fasteners throughout and a stainless backed Yofab logo for years of quality service. The base is slotted (8-1/2" x 3-5/8") for quick & easy mounting to a welding bench. Including the control box and fixture table, the AP600 is only 13"W x 20"L x 8"H. The control box is securely bolted to the positioner allowing it to overhang a table's edge to free up even more table space. 
| | |
| --- | --- |
| Capacity: | 100LBS properly balanced with table in horizontal position. |
| Table Speed: | 1/3 - 12 RPM. |
| Motor: | High torque gear-motor with steel gears and bronze bearings. Made in USA. |
| Power Requirement: | 115V AC 60Hz @ 1.3 Amps. 8' Cord with grounded plug supplied. |
| Overload Protection: | Power and motor fuse. |
| Table Diameter: | 8" diameter x 3/8" thick slotted steel table top with concentric grooves every 1/2". Made in USA. |
| Table Rotation: | Forward-Off-Reverse, controlled by toggle switch on side panel. |
| Speed Control: | Motor speed control board maintains constant torque and speed from 1/3 - 12 RPM. Made in USA. |
| Timer Function: | Variable from 0.10 Seconds to 120 Minutes. Made in USA. |
| Start / Stop Control: | On-Off foot pedal with 10' cord standard. Illuminated power switch. Made in USA. |
| Welding Current Grounding Circuit: | 200 Amps @ 50% duty cycle. |
| Dimensions: | Including control box & fixture platform: 13" Wide x 20" Long x 7-1/2" Table Top, 8-1/2" Chuck Top. |
| Construction: | Heavy duty steel construction and stainless steel fasteners throughout. Powder Coat exterior. Made in USA. |
| Shipping Weight: | 50 pounds. |
| Warranty: | 1 year. |
Share
View full details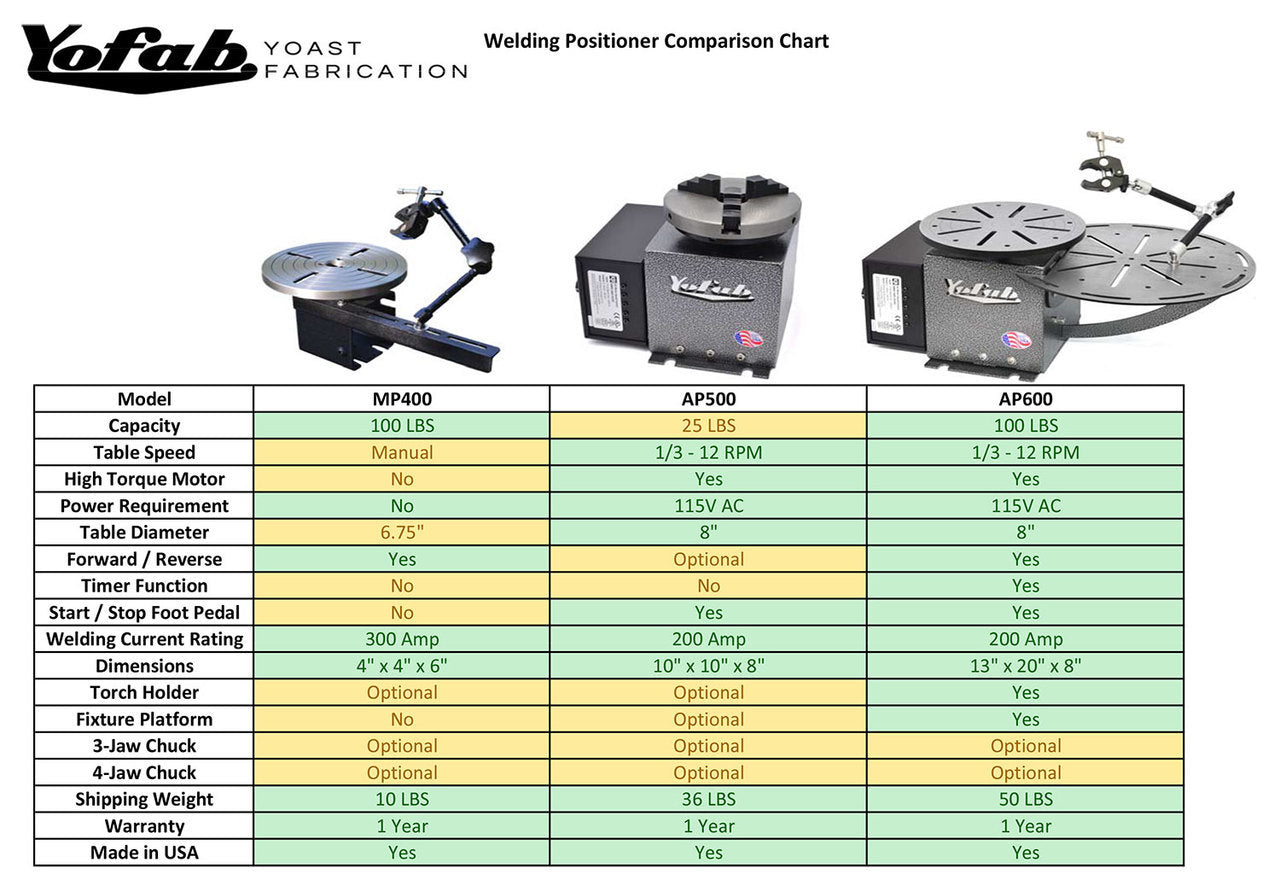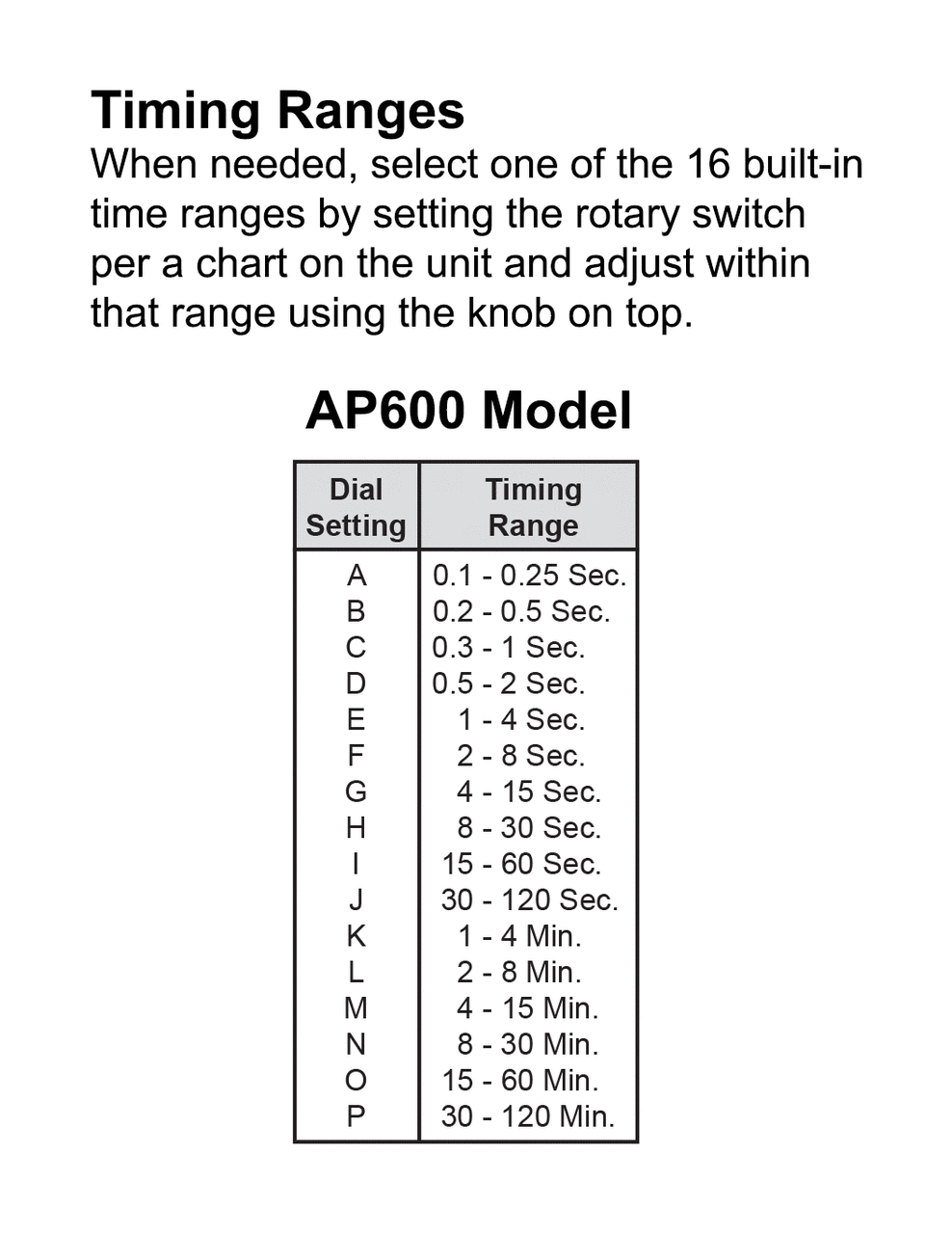 Very Well Made
We use the AP600 welding positioner to fuse stainless tubes and the timer function to avoid hitting keyways and scrapping parts. I like the slotted table for large parts but if it will fit on the chuck, it's a lot quicker. The platform has also been useful as a support and positioning stops. I'm happy we went with this one over the 500. Seems very well made, best looking machine in the shop!